Mobile Version of Alcohol Test - Description of Breathalyzer
This is a high-quality, fast, and simple application for determining the approximate value of alcohol in the blood, also known as an online alcohol test. This application calculates the blood alcohol content (BAC) based on the values you input and displays it in promiles. But that's not all! It also shows you the estimated time for alcohol to be eliminated from your system, which can be seen on the graph depicting the BAC level at different hours. Thus, it tells you when you can safely drive again. You can also navigate the graph using arrows to obtain information about the BAC at any given hour. It is important to note that these values are not binding.
Important: To use the application, you need to have AdobeAir installed on your mobile device!
Preview of the Mobile App "Breathalyzer"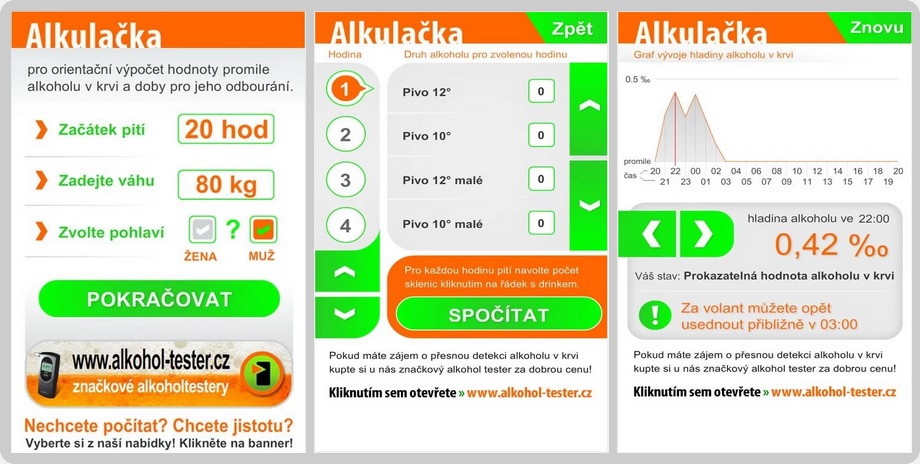 | | | | | | |
| --- | --- | --- | --- | --- | --- |
| | First step: The alcohol test begins by entering the start time of drinking along with your body weight, followed by selecting your gender. | | Second step: For each selected hour, the user specifies the number and content of drinks. The slider is used to navigate through the hours and drinks. | | Third step: The resulting graph displays the development of the BAC along with the peak promile reached and an approximate time to sober up. |
Reviews of the Alcohol Test, Breathalyzer
Based on your feedback, we can say that the breathalyzer is highly popular. Its advantages include simplicity, speed, clarity, and precise calculation tables. You can read about users' reactions to the application here. We welcome further feedback and comments on the application from the development team of the application and sellers of branded digital breathalyzers at alkohol-tester.cz. Please note that this breathalyzer serves only as an informational application for estimating residual alcohol content in the blood and in no way replaces digital breath alcohol testers!


Step-by-Step User Guide
If you are looking for a guide or help on how to use the application, click "Guide" for a detailed step-by-step description of the "breathalyzer" application.