Breathalyzer - Alteon
This is a novelty among breathalyzers, which was introduced to the Czech market at the end of 2014. Thanks to its features and price, this breathalyzer can be used as a personal breathalyzer, as well as for companies for preliminary breath tests. See for yourself its quality and versatility.
Description of Alteon Breathalyzer
An important feature of Alteon is the Fuel Cell technology, which uses an electrochemical reaction of the platinum element with ethanol molecules. This reliable technology is also used in police breathalyzers and all professional breathalyzers. Therefore, this breathalyzer is suitable both in terms of price for personal use and for companies for preliminary breath testing. With this breathalyzer, there is no need to worry about buying alkaline batteries. Alteon is equipped with a rechargeable battery (from Nokia), and it can even alert you to low battery level and can be easily recharged via a micro USB cable. Alteon boasts a measurement range from 0 to 5.00‰ with high measurement accuracy of +/-0.06‰ and displays the result to two decimal places. Alteon features a dual-color LCD display, where in case of a positive result indicating residual alcohol in the breath of the tested person, the otherwise blue display changes to red illumination, thus achieving a more effective visual warning, as can be seen in the image below. This breathalyzer emphasizes low weight, simplicity, quality, accuracy, and intuitive operation. Alteon also has a memory of the last ten measurements, which can be easily displayed using two side buttons. The package includes "Alteon," 1 rechargeable battery, 1 USB charging cable, 2 mouthpieces (more can be ordered separately), a warranty card, and a Czech user manual.
Alteon Specifications
* Fuel Cell electrochemical sensor - similar to professional and police breathalyzers.
* Rechargeable battery via micro USB cable with low battery warning.
* Memory for the last ten measurements with one-button operation.
* Measurement range (0.00 - 5.00‰), measurement accuracy (+/-0.06‰).
* Excellent design and function (the display turns red when alcohol is detected in the breath).
* Precise measurement result displayed to two decimal places.
* Clear LCD display with automatic shutdown of the breathalyzer.
* Test preparation time: 10s, test duration: 3s, recovery time: 15s.
* Operating temperatures: +5°C to +45°C
* LCD display dimensions: 120mm x 60mm x 10mm (2.2" dual-color display)
* Li-ion 3.7V rechargeable battery, total weight of Alteon: 70g.
Alteon Gallery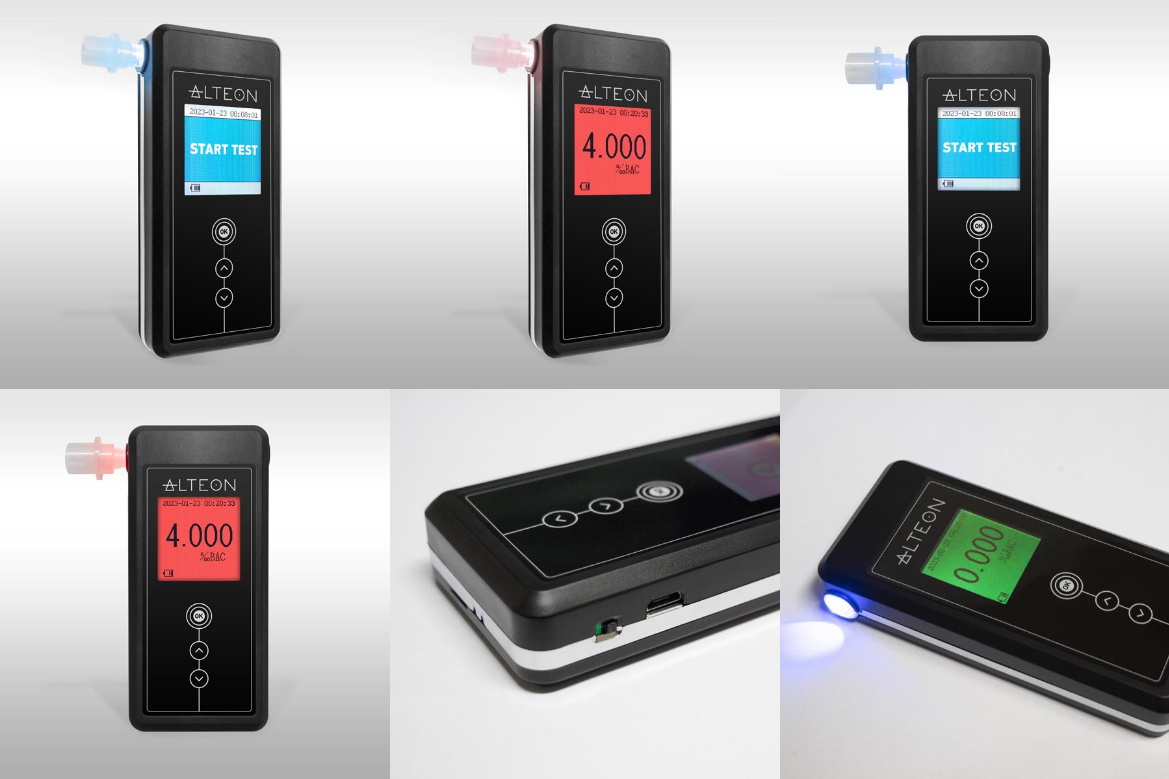 Order
For more information about Alteon itself, click here "breathalyzer - Alteon". You can also find Alteon breathalyzer at official retailers such as alkohol-tester.cz and alkohol-tester.as.
If you are interested in purchasing the Alteon breathalyzer, you can find this option here "Buy Alteon". The package contents are listed above in the section on the advantages and benefits of the Alteon breathalyzer. If you want to find out more about Alteon, do not hesitate to contact the sales assistant at "kucerova (at) alkohol-tester.cz".